Great question! We would like to think so, but it really depends on your needs and situation.  The best way to find out is to call Lisa and have a 5-10 minute conversation.
Every child has hopes, dreams, goals, and most of all: POTENTIAL.
At Aspire Therapy Services we NEVER give up on this potential.
Lisa Davison, PT, MPT
Board-Certified Clinical Specialist in Pediatric Physical Therapy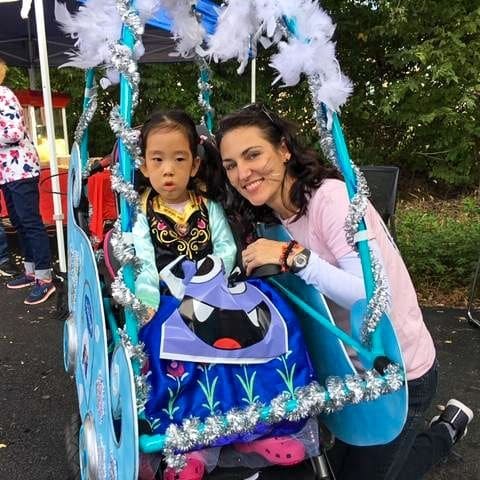 Physical therapist, Lisa Davison, pictured with her friend and patient, Priscilla.

Lisa is fantastic. She is a very responsible, intelligent, and experienced therapist. When your child is working with her, you will find that she is a wealth of knowledge and loves her patients. She has big plans in her mind. She challenged my daughter a lot and let her do the best she can. She gave us hope. When you choose Aspire, you choose hope!
Laura | Mother of Priscilla
Need More Information?
No problem.
We have answered the most common questions we receive on our FAQ page.
You can learn more about Lisa by visiting our We Care page.
If you would like to see Lisa in action, check out our Photos page.
More detailed information on the physical therapy services we offer can be found on our Services page.
If you just want to contact Lisa, feel free, all of her contact information is on our Contact page.
Are you ready for your free consultation?  We hope you are!  Please visit our Free Consultation page or click below.
Phone Consultation
We are sure you have questions for us.  No worries, we completely understand.
Feel free to call or email us anytime.
You can also complete any form on our website and we will be in touch shortly.